Any Video Converter Free (8.2): Powerful Converting Software
In today's digital age, video content has become an inseparable part of our lives. Whether you want to watch videos on your smartphone, tablet, or other devices, having the right video format is crucial and that is why we all need Any Video Converter Free.
What Is Any Video Converter Free?
Any Video Converter Free is a powerful and versatile software that allows you to convert videos between various formats effortlessly. With its user-friendly interface and extensive features, it has gained popularity among millions of users worldwide. Let's explore the main features, additional features, pricing, and pros and cons of Any Video Converter Free.
Main Features
Please quickly check out the mean features of this amazing Any Video Converter Free
1. Video Converter: Any Video Converter Free supports a wide range of video formats, including AVI, MP4, WMV, MKV, 3GP, and more. It allows you to convert videos to your desired format with ease.
2. Online Video Downloader: This software also serves as a video downloader, enabling you to download videos from over 100 websites, including YouTube, Facebook, Vimeo, and more. You can save your favorite videos to your computer for offline viewing.
3. Audio Extraction: Any Video Converter Free allows you to extract audio from videos and save it in popular audio formats such as MP3, M4A, WAV, and WMA. This feature is perfect for creating audio files from music videos or extracting soundtracks from movies. Great when it comes to free music downloading software, going as far for MP3 converters.
4. Device Compatibility: With ready-to-use presets, Any Video Converter Free ensures that your converted videos are compatible with various devices, including smartphones, tablets, game consoles, and more. It supports popular devices like iPhone, iPad, Android devices, and Sony PlayStation.
5. DVD Burning: Any Video Converter Free enables you to burn videos to DVD or AVCHD DVD, allowing you to create your own DVD movies and watch them on your TV. It supports both NTSC and PAL TV systems, and you can choose between 720P or 1080P AVCHD DVD formats.
Additional Features
HTML5 Video Conversion: If you want to share your videos on your website, Any Video Converter Free can convert your videos into HTML5 video formats (MP4, WebM, OGV) and generate an HTML page with embedding code. This makes it easy to showcase your videos on modern browsers.
Video Editing: Any Video Converter Free offers basic video editing features, including trimming or clipping favorite segments, merging multiple videos into one, cropping video area to remove black bars, adjusting brightness, contrast, and saturation, rotating or flipping videos, and applying special effects.
Batch Conversion: With Any Video Converter Free, you can convert multiple videos simultaneously, saving you time and effort. This feature is especially useful when you have a large collection of videos that need to be converted.
Subtitle Support: Any Video Converter Free allows you to add external subtitles to your videos. This feature is beneficial when you want to watch foreign language films or videos with subtitles.
Pricing:
Any Video Converter Free is available for free, making it an excellent choice for users who need basic video conversion and downloading capabilities. However, there is also a premium version called Any Video Converter Ultimate, which offers additional features such as DVD ripping, DVD menu customization, faster conversion speeds, and priority customer support. The Ultimate version is available for purchase at a reasonable price of 49.95$, running a discount from 59.95$.
Check it out here! https://www.any-video-converter.com/
Why Choose Any Video Converter Ultimate?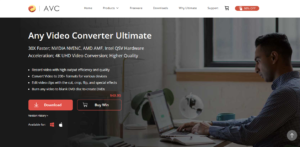 The premium Any Video Converter Ultimate plan unlocks faster conversion speeds and additional powerful features that go beyond the free version. Here are some key reasons to upgrade to Ultimate:
30X Faster Conversion – Ultimate taps into GPU hardware acceleration using NVIDIA, AMD, and Intel tech to convert videos up to 30X faster than the free version. You can convert large videos or batches in a fraction of the time.
4K UHD Video Support – Ultimate allows you to convert videos up to 4K Ultra HD resolution for stunning image quality. The higher quality conversions make it great for cinematic videos.
Enhanced Video Editing – Comprehensive video editing tools like cropping, effects, overlays, subtitles, and more let you customize and enhance videos before converting.
DVD/CD Ripping – Rip and convert DVDs and CDs to digital video and audio files. Create digital backups of your physical disc media libraries.
DVD Authoring – Design and burn custom DVDs complete with professional looking menus. Create DVDs to share your converted videos.
Batch Downloading – Download videos and music from YouTube, Facebook, Vimeo, and 100+ websites in batches rather than one at a time.
Screen Recording – Capture and record your computer screen activity as high-quality video files. Ideal for tutorials, demos, and more.
With its faster speeds, premium quality, and robust features, Any Video Converter Ultimate represents the best value for power users or professionals with more demanding video conversion and editing needs. The additional capabilities make it worth upgrading from the free version.
Pros:
User-friendly interface and easy-to-use features.
Supports a wide range of video and audio formats.
Allows downloading videos from various websites.
Offers device-specific presets for easy compatibility.
Provides basic video editing capabilities.
Boasts an MP3 converter for YouTube videos.
Free to use.
Cons:
The free version may have limitations compared to the premium version.
Some advanced features are only available in the paid version.
Conclusion
Overall, Any Video Converter offers an excellent value proposition for casual and power users alike. The free version provides robust core video conversion capabilities that make it easy for anyone to convert videos into the major formats needed for playback across devices. For basic conversion needs, the free edition has all the necessities like format support, presets, downloading, and basic editing. It's a great free tool for the average user.
For enthusiasts, professionals, and organizations with more demanding needs, Any Video Converter Ultimate unlocks advanced features well worth the reasonable $49.95 price tag. The significantly faster conversion speeds, 4K quality, enhanced editing tools, DVD authoring, and other premium features offer capabilities far beyond the free version. For power users converting large volumes of high quality video, the productivity and performance gains justify the cost.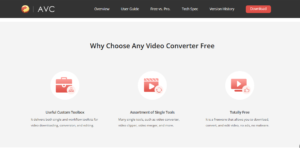 The unlimited free version meets the needs of casual users who just want to convert the occasional video. But those converting videos regularly, dealing with 4K or HD quality sources, needing to edit extensively before converting, or generating output for clients and commercial purposes get much greater value from the expanded feature set of Any Video Converter Ultimate.
Weighing the pros and cons, Any Video Converter delivers excellent capabilities tailored for both casual and professional use cases. The free edition makes it easy for individuals to convert videos for personal playback needs. While the Ultimate edition's robust feature set suits professionals, organizations, and enthusiasts who need advanced video conversion and editing functionality exceeding what the average user requires. With options catering to all levels of needs, Any Video Converter can provide value to a wide audience.
That concludes our article on "Any Video Converter Free".
Continue reading Lampard reveals Chelsea player he didn't want to sell!